The St. Elmo FFA had a tremendous turnout for their Annual Feed the Farmer at ADM in Altamont today! The next Feed the Farmer is scheduled for October 15, 2022 in Cowden. Thank you to all the farmers for your hard work and dedication to feed America!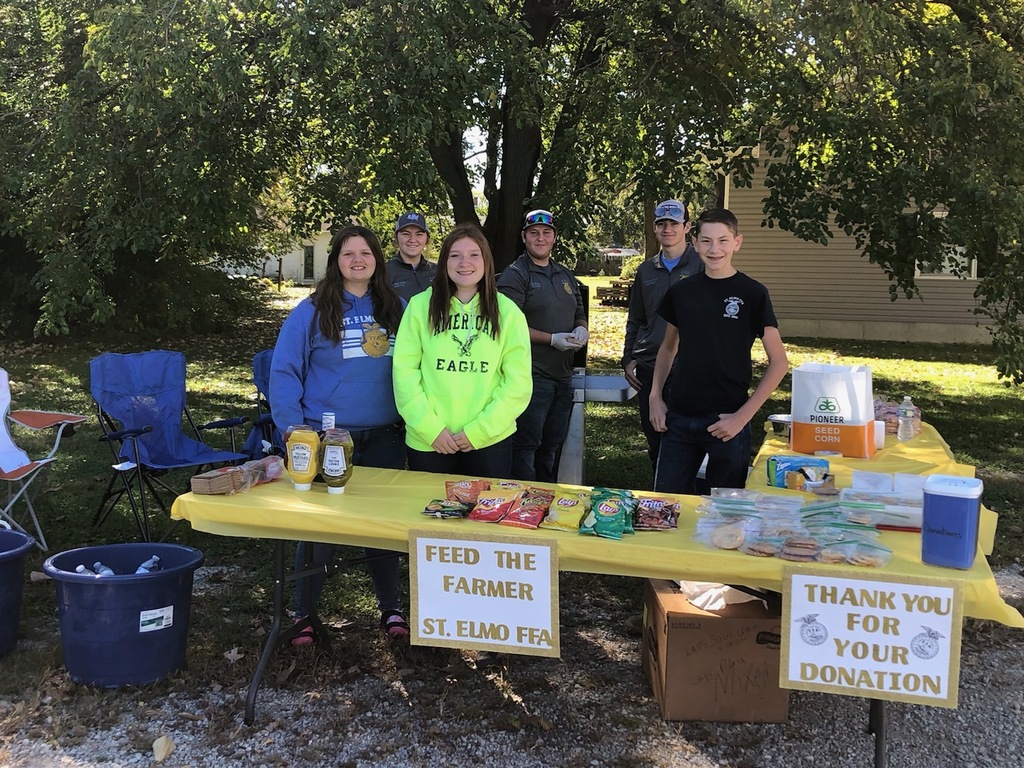 The 32nd Annual St. Elmo F/S Volleyball tournament is Sat. Oct. 1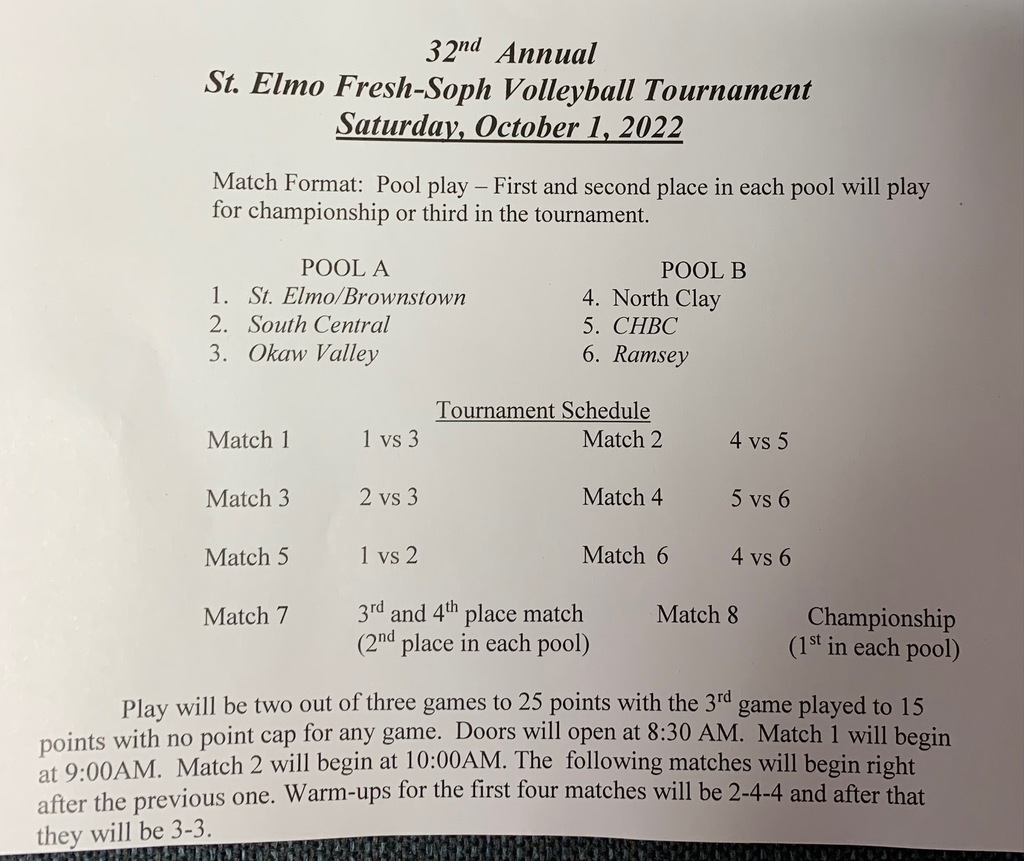 There will be a HS Cheer tryout on Monday, Oct. 3 at 6:00pm at the Brownstown Elementary School Cafeteria. Anyone that is interested should contact Deb Hunter at
dhunter@bcusd201.com

There will be a Parent Meeting for JH Boys Basketball on Monday, Oct. 3 at 5:00pm in the SEHS cafeteria. Parents should enter the Cafeteria doors at the North East end of the building.

There will be an Athletic Wall of Fame Induction Ceremony immediately following the JV volleyball match on Friday, Sept. 30

The St. Elmo FFA will be hosting their Annual Feed the Farmer at the ADM Grain Elevator in Altamont on Saturday, October 1st from 11 am - 1 pm as an appreciation for our local farmers!

Congratulations to the Junior High Girls Basketball Team! The 7th grade team took home the second place trophy, and the 8th grade team won the Vandalia Capital Classic Tournament. What an awesome start to the season!

Congratulations to the High School Baseball team for winning the EIC Tournament!!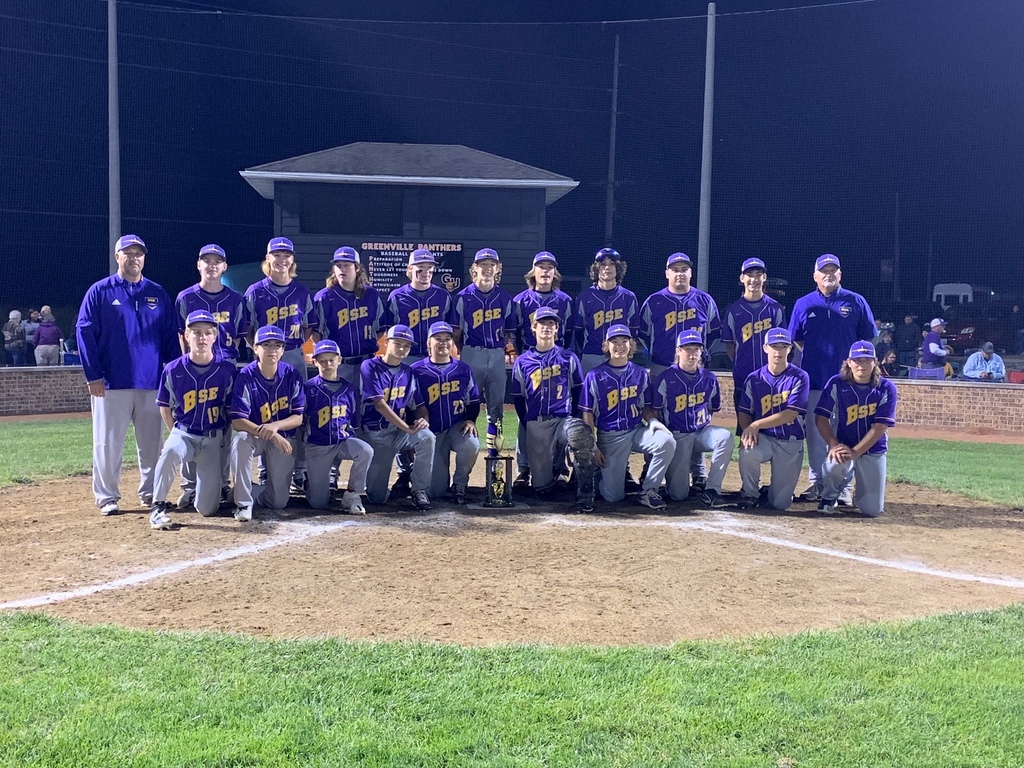 The St. Elmo FFA attended the Elite Conference at Richland Community College today! FFA members attended a college career fair and gained insight into agriculture education. Those members attending the conference included Kinley Carson, Anna Stine, Lowell Wilhour and Lane Stine.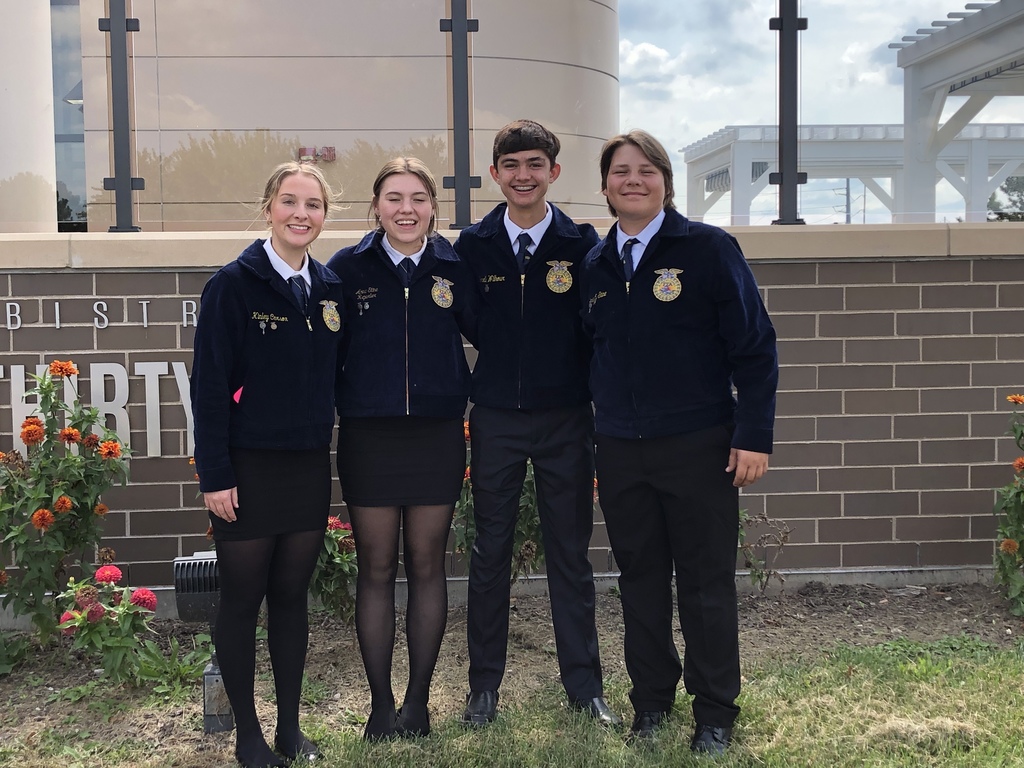 The St. Elmo Agriculture Department had a very special guest come into their classroom today. Mr. Randy Myers presented on Fire Safety & Proper Use of Fire Extinguishers to the Ag Mechanics class!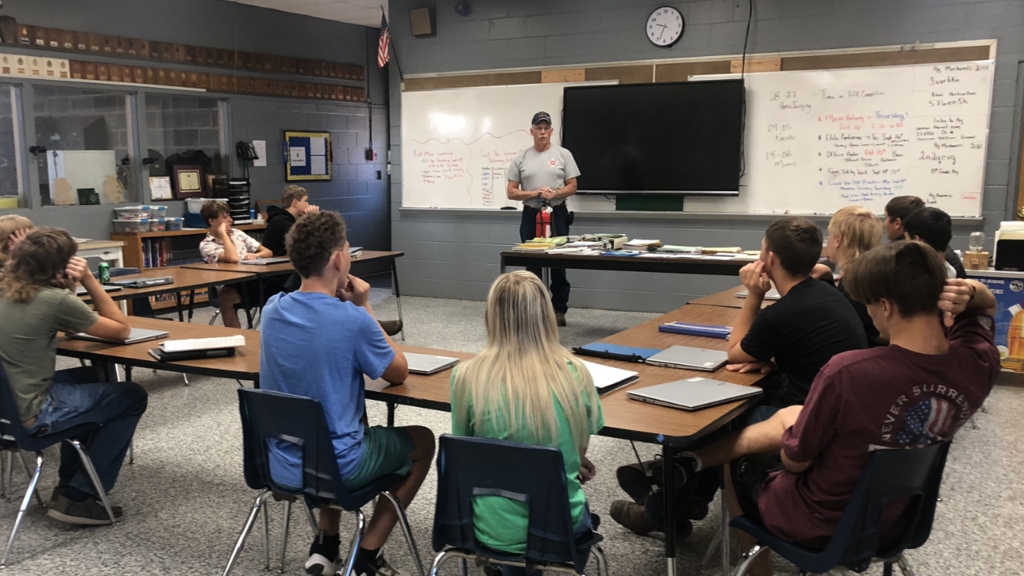 The St. Elmo High School Agriculture Department has been working hard this week to complete their butterfly garden/outdoor classroom project. The project was made possible via the Illinois Schoolyard Habitat Action Grant Program in which the Illinois Department of Natural Resources, the Jadel Youth Fund, the Daniel F. and Ada L. Rice Foundation, and the Illinois Conservation Fund are the sponsors of the program. Pictured are agriculture students planting and developing the habitat site.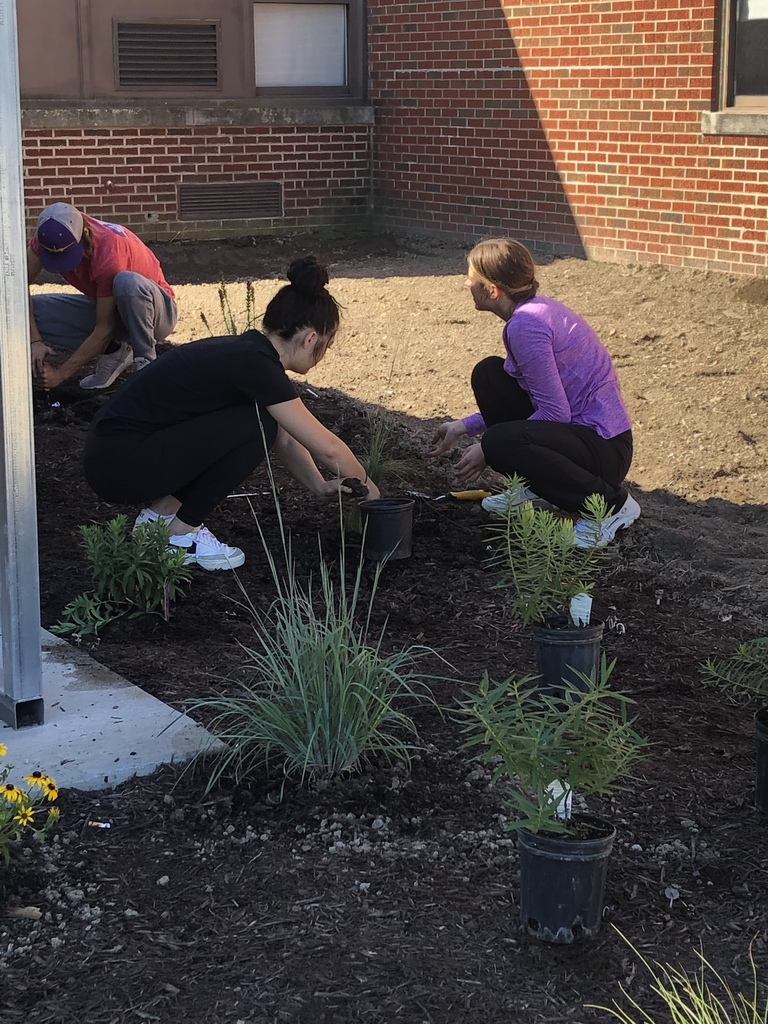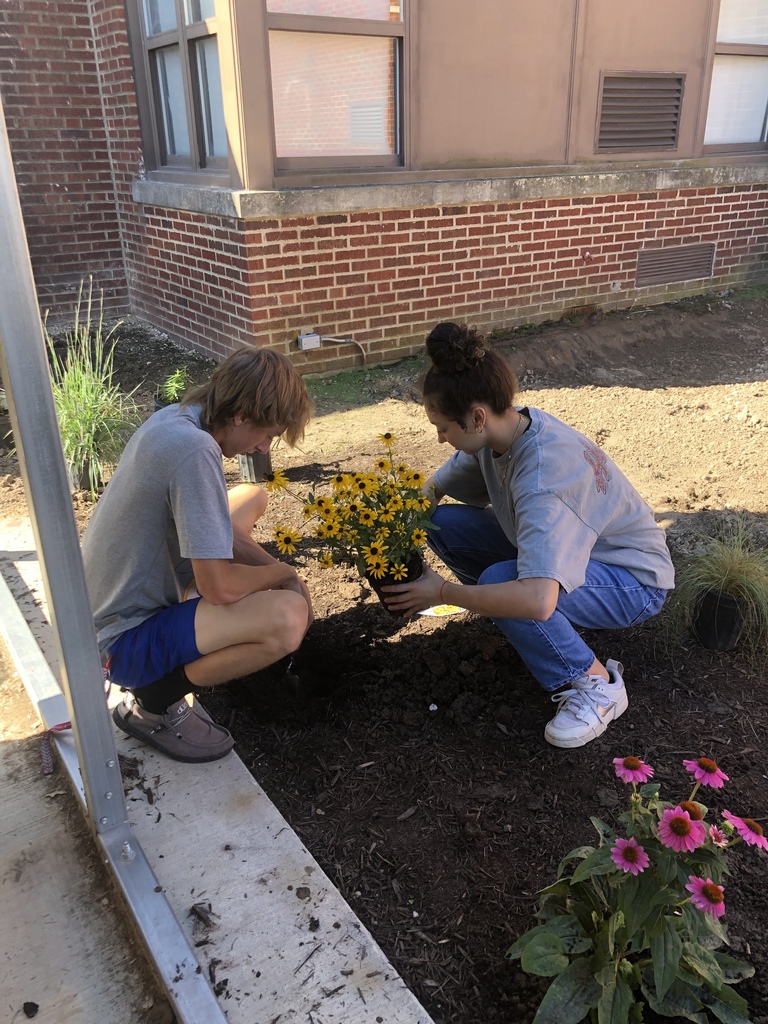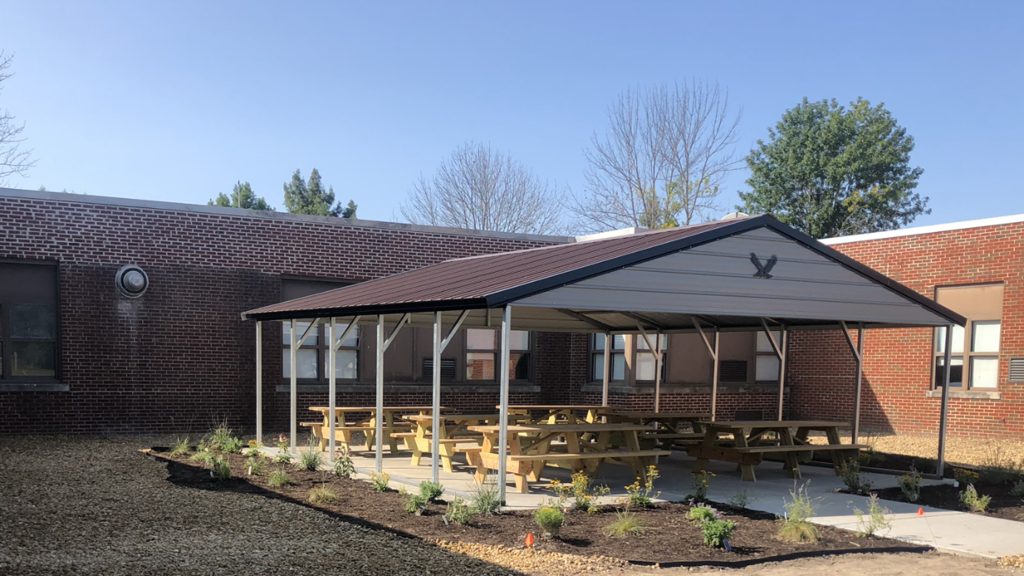 Our August Jr. High Athlete of the Month is Dayana Haslett (Jr. High Softball)!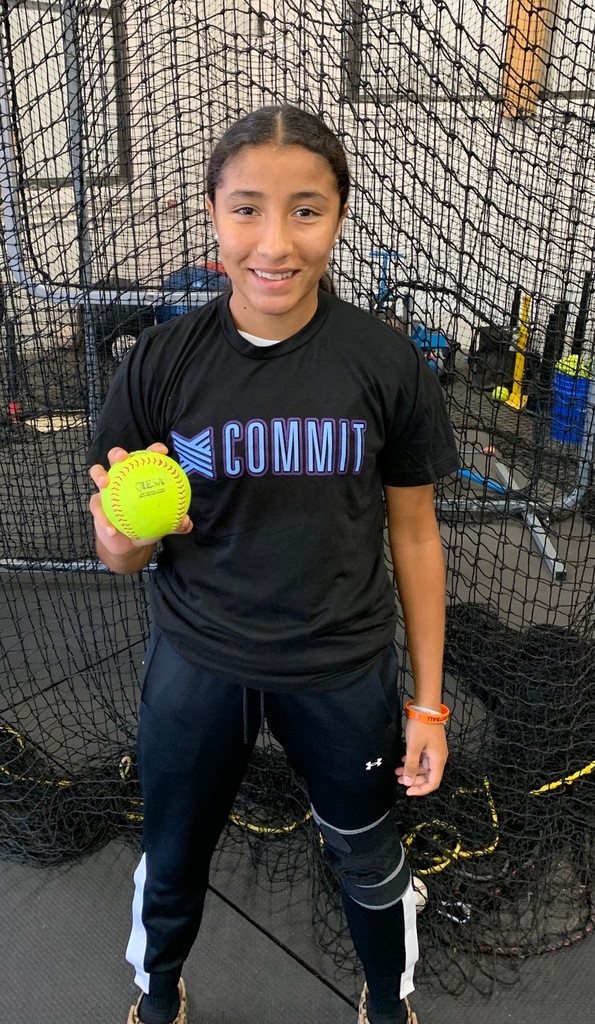 Our August H.S. Athlete of the Month is Wyatt Forbes (H.S. Baseball)!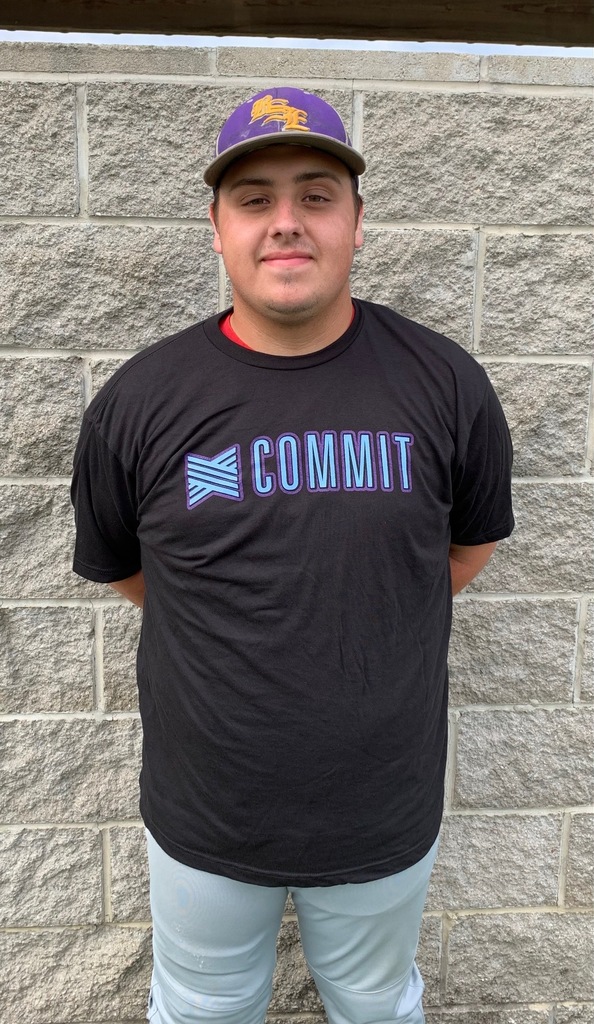 The St. Elmo High School Agriculture Department is excited to announce the completion of their greenhouse! The greenhouse will be utilized as an educational extension for their Horticulture classes as well as a financial tool for the Ag Department & FFA via Fall, Winter & Spring plant sales!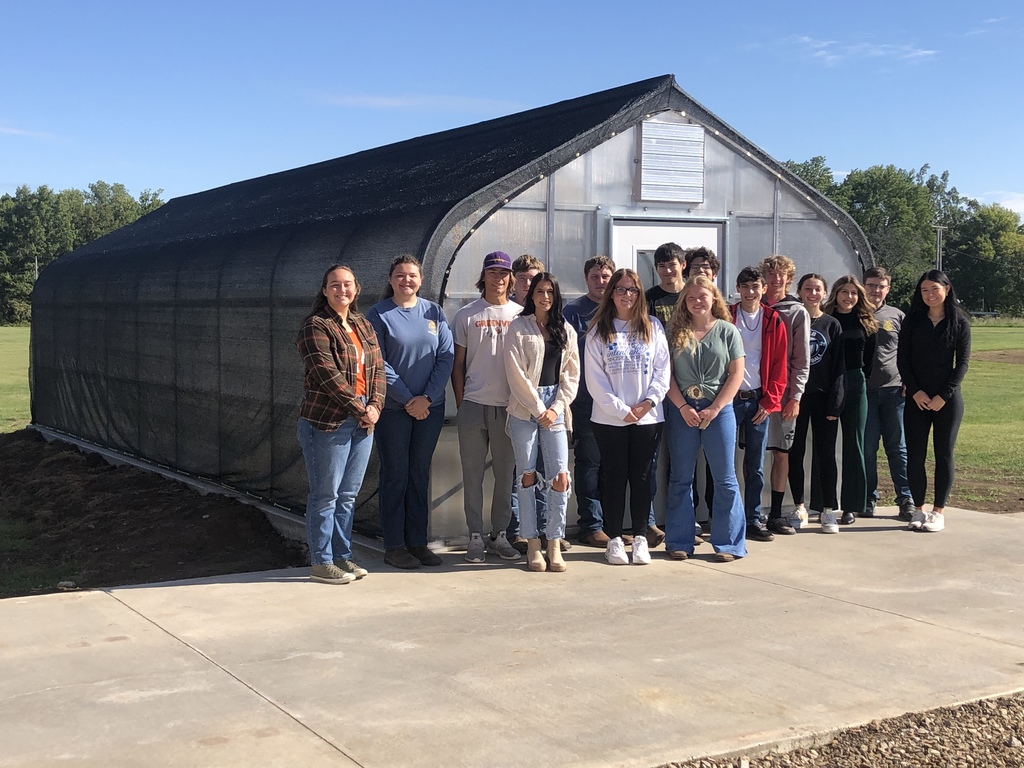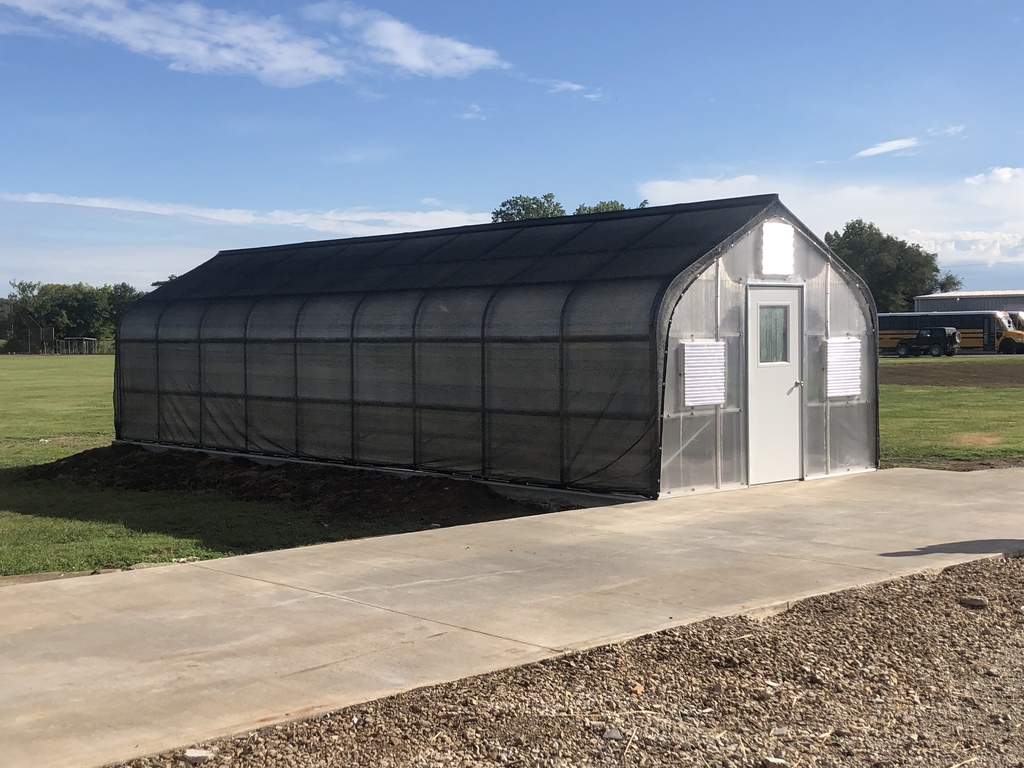 The St. Elmo FFA would like to acknowledge those businesses and individuals that supported the St. Elmo FFA Jacket Sponsor Program. The program in its first year was a tremendous success with now over 40 FFA members wearing their own blue and gold jacket proudly. Thank you so much for all your support of our program and we look forward to honoring each of you at our Annual FFA Banquet in the Spring. JACK Petroleum Josh & Kayla Bartels Ledbetter's Lawn Care Mr. Bob Lowe Ms. Jo Stine Post Oak Portraits Putnam Trucking Roger's Home Appliances St. Elmo FFA Alumni Strauch Family Farm Walker Grain & Livestock

The St. Elmo Agriculture Department received a grant through the IDNR to create a garden and habitat for plants native to Illinois. This week the agriculture students are busy landscaping and creating an area for all students and staff to enjoy! The design of the landscape area was completed by Audrey Wilhour during her senior year in Horticulture class. Plants were provided by Eloe Landscapes Garden & Homes.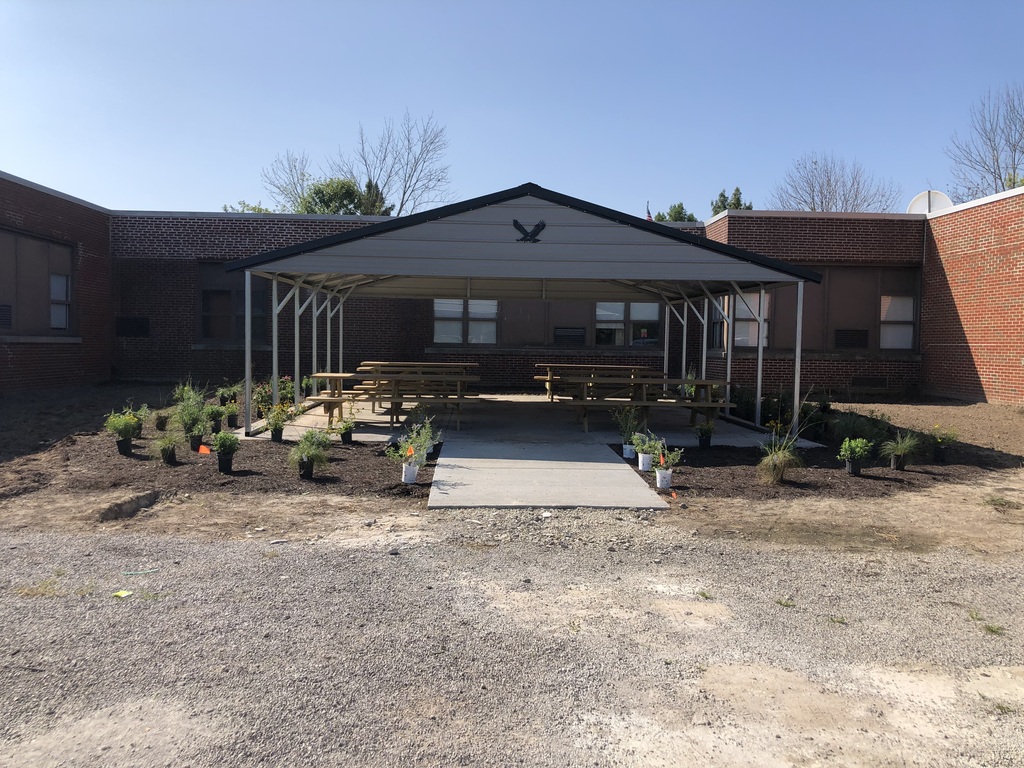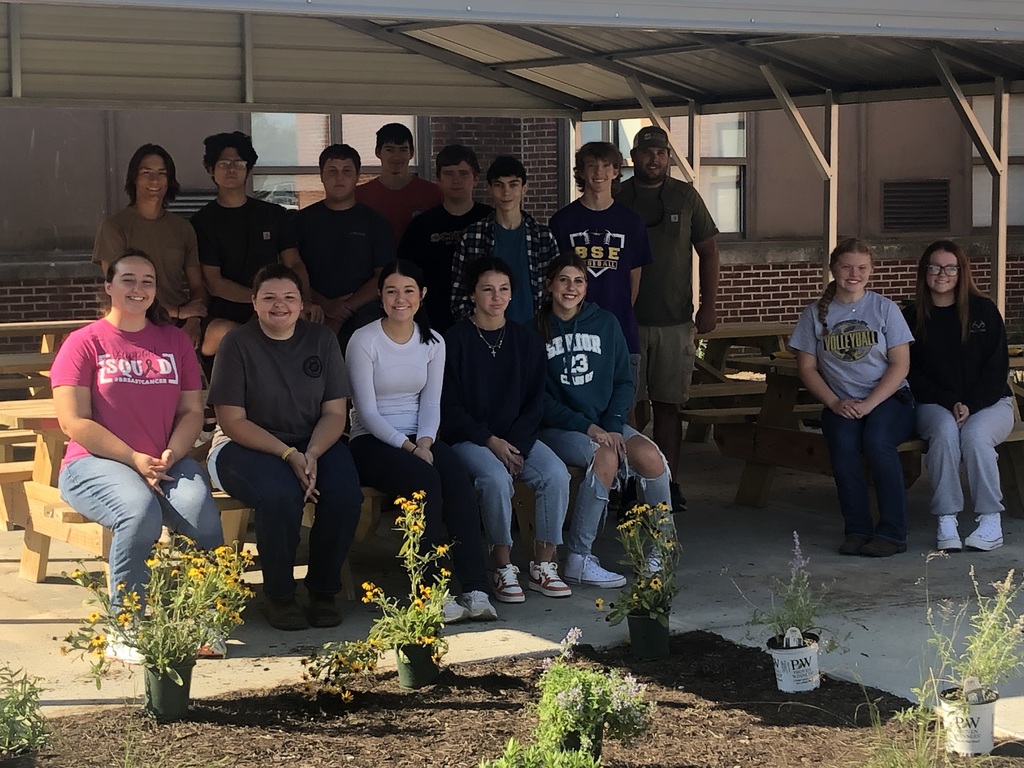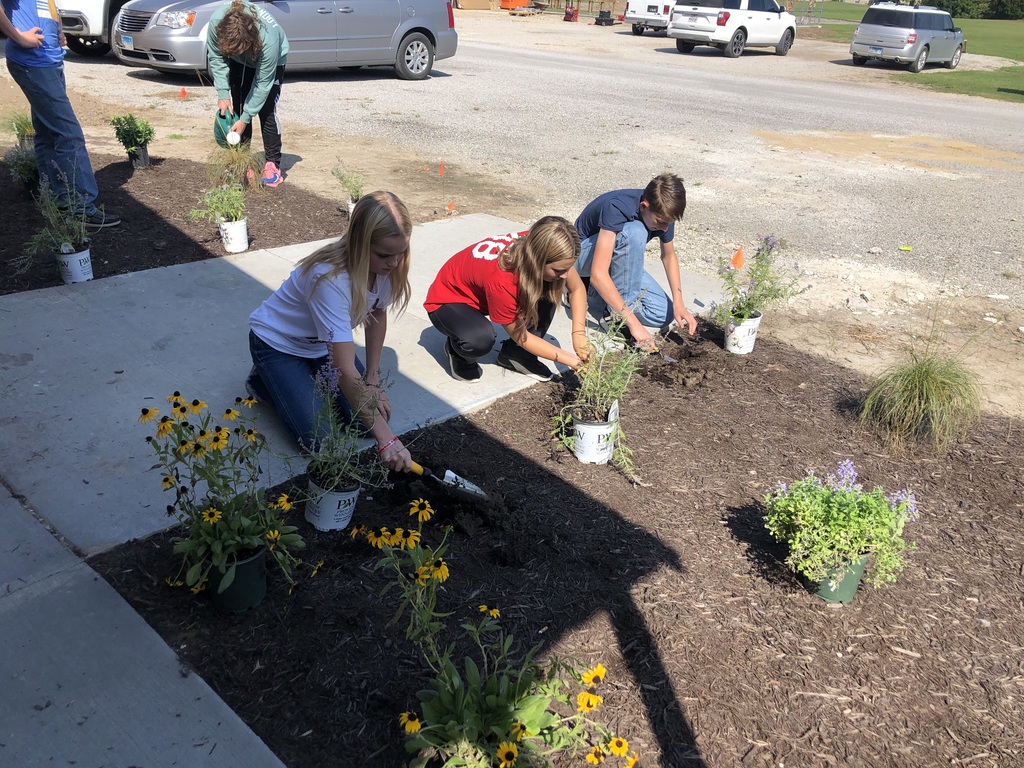 St. Elmo FFA had a great time at the St. Elmo Labor Day Parade!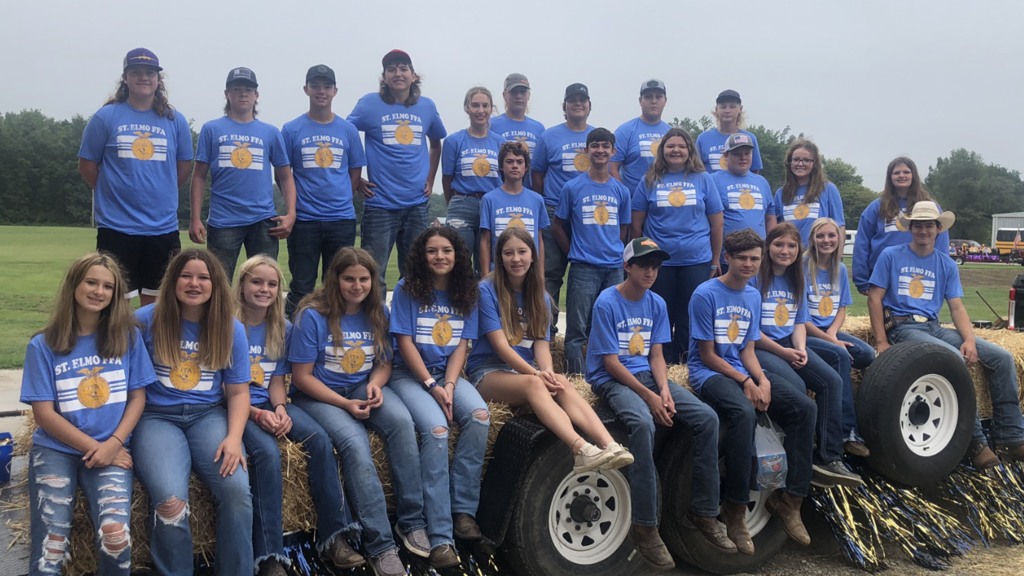 Congratulations to Lane Stine & Sydney Stine for being named the August FFA Members of the Month!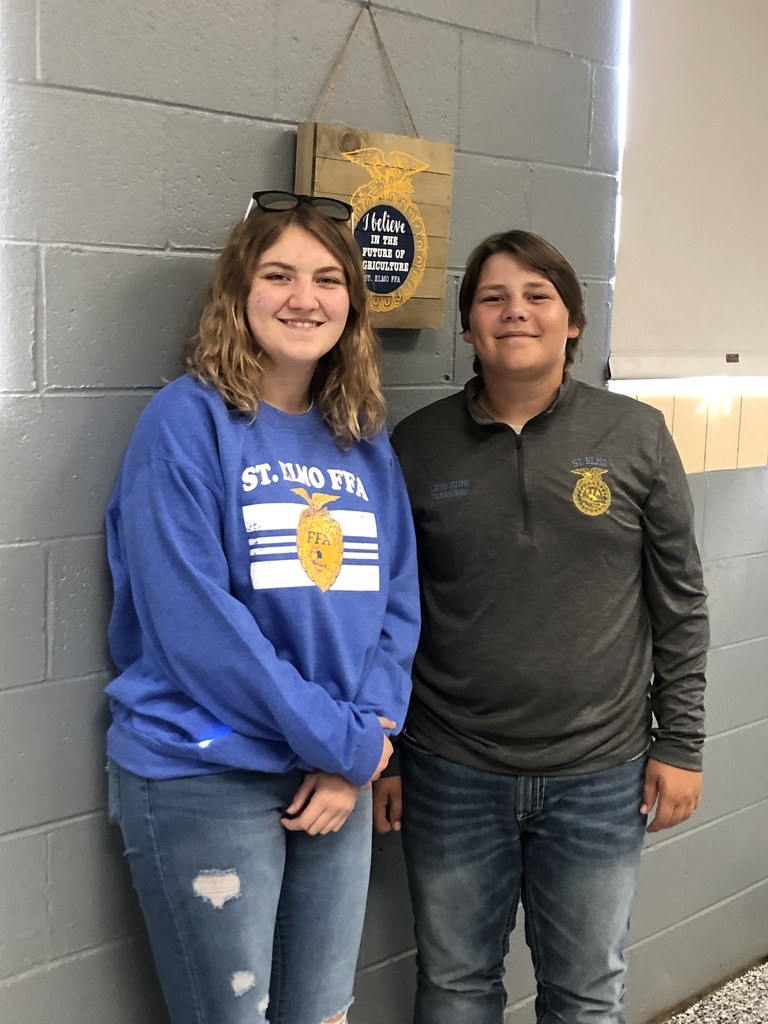 The St. Elmo FFA is selling 10" inch Potted Mums for $12.00 each. The colors include red, yellow, white, orange/bronze, and a pink/purple shade. Please contact Mrs. Totten at
mtotten@stelmo.org
if interested in placing a order.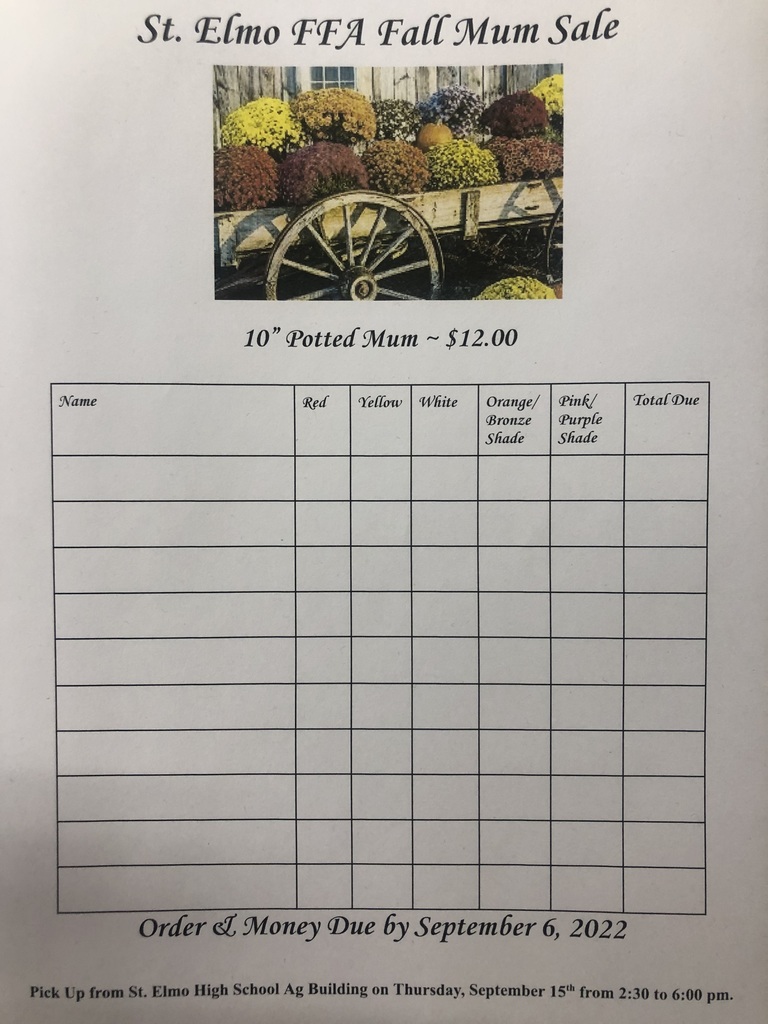 Community Service Portfolio Workshops The Business Department and Community Service Class Instructors will be offering weekly Community Service Portfolio Workshops on Wednesdays in Rooms 110 (Mr. Mays) and 111 (Mrs. Cox) beginning on September 7, 2022. These weekly workshops will be available during WIN time (8:05 a.m. - 8:50 a.m.) to high school students who need assistance updating their school portfolio of community service hours. These "Wednesday Workshops" are not a requirement, but are strongly encouraged for students who need to update, add to, and/or complete their portfolios. Freshman and Sophomore students who have yet to take the Community Service Class do not need to attend the workshops until they have completed the class. If you have any questions, please feel free to contact Mrs. Cox (
mcox@stelmo.org
) or Mr. Mays (
pmays@stelmo.org
).